Shrubs of Distant Hill Gardens
The Three North American Species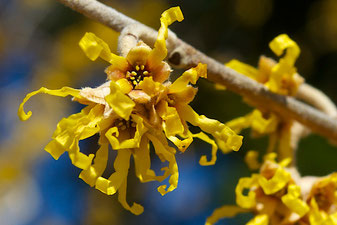 Witch-hazel (Hamamelis) is a genus of flowering plants in the family Hamamelidaceae, with three species in North America and one each in Japan and China. They are deciduous shrubs or small trees growing to 10–30ft (3–9m) tall.
Hamamelis virginiana, known as common or American witch-hazel, is a species of witch-hazel native to eastern North America. It blooms in the fall while all other species of witch-hazel bloom in late winter or early spring. H. virigiana grows naturally in the woods of Distant Hill Gardens. 
Hamamelis vernalis is a species of witch-hazel native to the Ozark Plateau in central North America, in Missouri, Oklahoma, and Arkansas. Vernal Witch-hazel is under cultivation in our gardens at Distant Hill.
Hamamelis ovalis, known as Big leaf witch-hazel, is a new species of witch-hazel that was only discovered in July 2004, in southern Mississippi. It has since also been found in a few sites in southern Alabama.
aka 'Snapping Hazel'
The seed capsule of witch-hazel splits explosively at maturity, ejecting the seeds with sufficient force to fly for distances of up to 30 ft (10 m), giving it the sometimes used common name "Snapping Hazel".
Medicinal Uses of Witch-hazel
Witch hazel is an astringent produced from the leaves and bark of the North American Witch-hazel shrub (Hamamelis virginiana). This plant extract was widely used for medicinal purposes by Native Americans. They produced witch hazel extract by boiling the stems of the shrub and producing a decoction, which was used to treat swellings, inflammations, and tumors. Early Puritan settlers in New England adopted this remedy and witch hazel is a component of a variety of commercial healthcare products today.
More Interesting Facts About Witch-hazel
Witch-hazel is one of the very few American medicinal plants approved as an ingredient in non-prescription drugs by the U.S. Food and Drug Administration.
The botanical name, Hamamelis, translates to "together with fruit".  This refers to the fact that witch-hazel is one of the few trees/shrubs that can bear fruit, leaves and flowers simultaneously.
A Unique Native Viburnum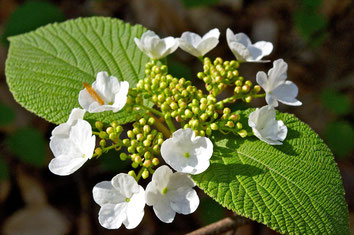 Hobblebush (Viburnum alnifolium - syn. lantanoides) blooms in early May in the woods of Distant Hill Gardens. It is a shade loving deciduous shrub growing 6–12 ft (2–4 meters) high, with branches that will root if they touch the ground. These rooted branches form obstacles which can trip (or hobble) walkers – hence the common name. 
Hobblebush succeeds well at growing in deep shade. Developing leaves before the neighboring trees leaf out gives this Viburnum access to the suns rays for two to four weeks before the over-story leaves have fully expanded. The large heart-shaped opposite leaves, up to 8 inches long, act as large solar collectors in the dark understory.
This eastern North America native has developed a number of interesting adaptations that enable it to not merely survive, but to flourish in the cold and shade. It has an antifreeze in its leaves that reduces the freezing point to 23℉ (-5℃), enabling the growing plant to withstand temperatures that would damage most other plants.  At night, hobblebush maintains a low respiration rate compared to other plants using less energy. And the showy flowers in the outer ring are sterile while the small greenish flowers of the inner cluster are fertile. This enables the plant to produce flowers that are attractive to pollinators while using less energy.
The flowers are 3 inches or more across, followed by fruits that change in color from red to dark purple in late summer. The flowers provide nectar and the leaves provide food for the Celastrina ladon (Spring Azure) butterfly and its caterpillar. The fruits, leaves and twigs of this beautiful Viburnum are food for a large number of birds and mammals. In fact, one of its other common names is Moosewood.
For more on this interesting native shrubs read this Northern Woodlands article.
And for more photos on this rather extraordinary native plant and its survival mechanisms read this blog 'Hiking with Chuck'
The First Flowers of Spring at Distant Hill
Vernal Witch-hazel (Hamamelis vernalis) is the first shrub at Distant Hill Gardens to flower every year. The buds, which soon will become fragrant yellow flowers, are just beginning to open on this, the first full day of spring. Finally, life returns to the gardens after a long snowy winter.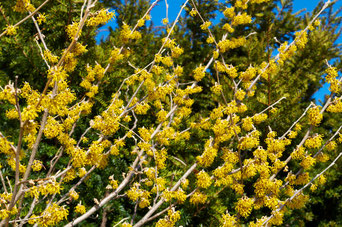 Hamamellis vernalis, or Ozark Witch-hazel, is native to the southern and central  United States. The flowers will open on relatively warm days but remain closed when it's cold to avoid frost. When the flowers do open they will be pollinated by small gnats and bees.
There are several cultivars of Vernal Witch-hazel selected mainly for variation in flower color, including 'Carnea' (pink flowers), 'Red Imp' (petals red with orange tips), and 'Squib' (vivid yellow flowers). 
Height

: 6-10' 

Spread

: 10-15' 

Habit/Form

: Rounded to upright  

Zone

: 4-8 

Birds Attracted

: Robin, junco, titmouse, cardinal, and many others

Plant Appeal for Birds

: Seeds released in September-October