Medicine in the Bog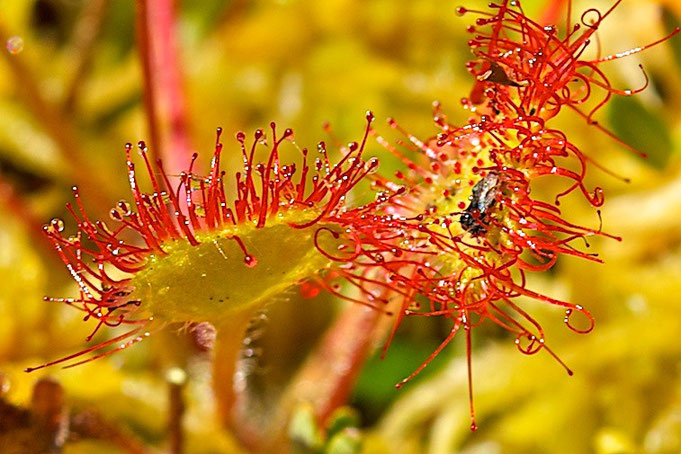 Extracts of the Round-leaved Sundew, also called Common Sundew (Drosera rotundifloia) have show great efficacy as an anti-inflammatory and anti-spasmodic. The sundew was used during the middle ages to treat the plague, and is used today as a Homeopathic cough remedy.
There are hundreds of Round-leaved Sundew growing in the bog at Distant Hill Gardens. Sundews comprise one of the largest genera of carnivorous plants, with near 200 known species. 
The plant feeds on insects, which are attracted to its bright red sticky tentacles. It uses enzymes to dissolve the insects and extract nitrates and other nutrients from their bodies. It is thought the Sundew has evolved this carnivorous behavior in response to its habitat, which is usually poor in nutrients or so acidic that nutrient availability is severely decreased.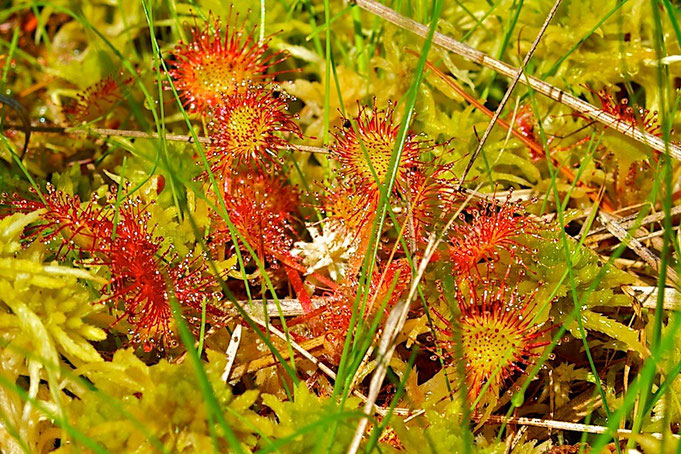 The Round-leaved Sundew, one of the most widespread sundew species, is found in all of northern Europe, Siberia, Korea, Japan, New Guinea and much of northern North America.
In North America, it is considered endangered in the US states of Illinois and Iowa, exploitably vulnerable in New York, and threatened in Tennessee.
---