Distant Hill Nature Trail
"No one is useless in this world who lightens the burdens of another."   Charles Dickens

Distant Hill Nature Trail &
White Rock Woods Play Area
are now open to the public daily, dawn to dusk.
Parking is available at the trail-head just off the paved road

66 March Hill Road, Alstead, NH 03602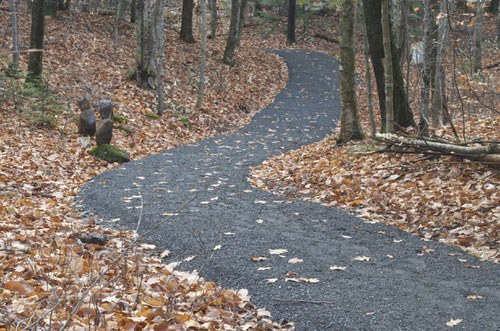 In order to make a portion of the natural areas of Distant Hill Gardens more accessible to everyone, we constructed a mile long nature trail through a section of the property. This 21-acre portion of Distant Hill is located almost entirely in the town of Alstead, NH.

Distant Hill Nature Trail and 'White Rock Woods' Nature Play Area are now open to the public daily. Visitors can visit the trail and the play area any day of the year from dawn to dusk. There is a small parking area just off March Hill Road at the Alstead/Walpole town line with a kiosk containing a trail map and other information.

Pets are welcome on leash. No horses or wheeled vehicles with the exception of wheelchairs and strollers.

The Story of 'Trails-for-All' at Distant Hill Gardens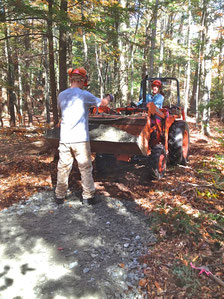 In the fall of 2013, we began building the first accessible nature trail at Distant Hill Gardens. The work was partially funded through the Quabbin to Cardigan Partnership (Q2C), a collaborative effort to conserve the Monadnock Highlands of north-central Massachusetts and western New Hampshire. The grant was applied for and administered through ACCESS, a Keene, NH, based non-profit helping people with disabilities.
Three days a week for six weeks that fall, a small group of students and teachers from ACCESS helped us start installing the base layer of our first accessible trail. It snaked its way through the woods to one of the many vernal pools on the property.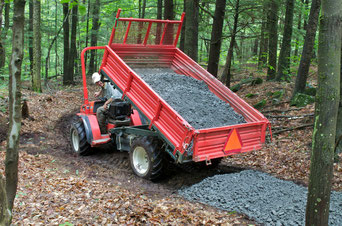 In the spring of 2014 we received a second Q2C grant and continued building the rough base trail to a second vernal pool. We worked throughout the summer of 2014 and completed the base for a half-mile long loop trail that connects four vernal pools and a black ash seep.

Thanks to Ellen Jensen, we were able to finish installing the base layer of gravel for the loop trail in the summer of 2014. The job was made considerably easier because Ellen loaned us her all-terrain dump tractor named 'Goldie'.  Learn More ►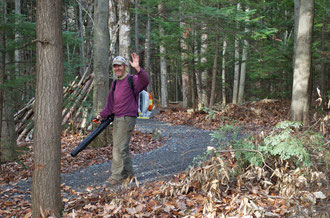 In May 2015, we received another Quabbin-to-Cardigan grant to finish the loop trail with a smooth compacted gravel surface suitable for wheelchairs and strollers. The Cheshire County Conservation District (CCCD) is acting as our financial administrator for these grant funds.
We finished the loop trail in the fall of 2015 and plan to open it to the public in the spring of 2016. It will be open daily from dusk to dawn with parking available just off March Hill Road.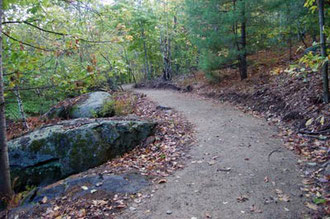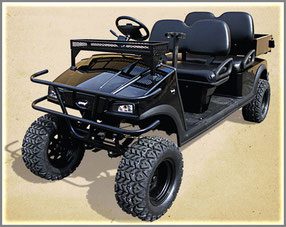 Additional trails and paths are being made more user friendly every year, but we can not make all the trails fully accessible.
We are hoping to purchase an off-road electric cart for the rougher, undeveloped, and steeper trails. This would enable us to transport visitors who need assistance to all the features of Distant Hill, even those sites that are not connected by accessible trails.
Between Donations, Grants, Crowd-funding and saving our pennies, we hope to slowly fund the 'Trails-for-All' construction and the equipment purchases.
Michael Nerrie
May 2012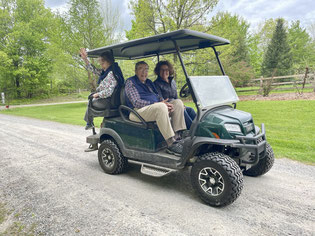 In December 2017 we won a Club Car Onward four-person electric personal transport vehicle with the help of hundreds of our friends on our Facebook page! Thank you to everyone who voted for Distant Hill Gardens!
Michael Nerrie
January 2017