A December Harvest of Cranberries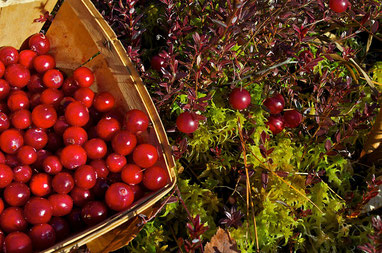 A December harvest of cranberries from the bog at Distant Hill Gardens. The frosts have sweetened the berries a bit, but they still have a tartness that goes well with our sweet homemade maple syrup.
Cranberries are a group of evergreen dwarf shrubs or trailing vines in the subgenus Oxycoccus of the genus Vaccinium. They can be found in acidic bogs throughout the cooler regions of the northern hemisphere. They are an important commercial crop in Canada and the United States.
The Health Benefits of Cranberries are many. Cranberries and cranberry juice have been found to help prevent urinary tract infections. They also have been shown to have anti-cancer properties.  The cancer-preventive benefits of cranberries are known to extend to cancers of the breast, colon, lung, and prostate.
---
---
We Have Two Native Species Of Cranberries
Large Cranberry, Vaccinium macrocarpon (syn Oxycoccus macrocarpus), is the species shown here and the one grown commercially.
Small Cranberry, Vaccinium oxycoccosis, is quite similar to the large variety. Both are native to the northeastern United States and Canada.
Identifing Features the Two Species
The size of their fruit: A quarter to half inch long (.635 - 1.25 cm) on Small Cranberry, and a half to one inch (1.25 - 2.5 cm) on Large Cranberry.
The leaf edges: Generally rolled under on Small Cranberry and flat on the Large Cranberry.       
---