Common and Beautiful...but Tiny and Hard to Find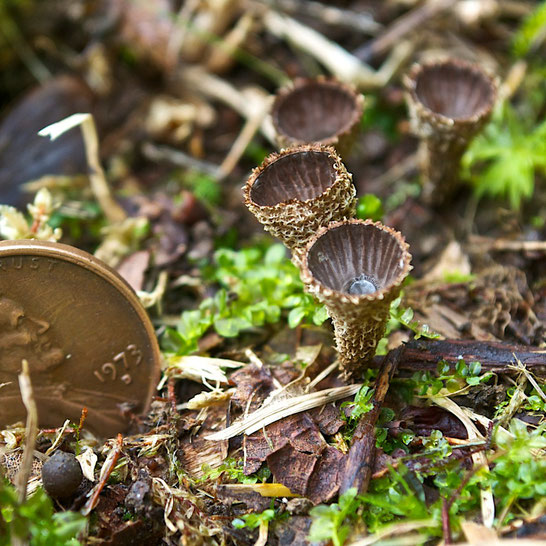 I noticed this tiny fungus growing in the grass on my way to the swimming pond recently. Cyathus striatus, commonly known as Fluted Bird's Nest, is a common bird's nest fungus with a widespread distribution throughout temperate regions of the world.
Fluted Bird's Nest can be distinguished from other bird's nest fungi by its hairy exterior and fluted inner walls.
Cyathus striatus is a saprobic fungus, deriving its nutrition from decaying organic material, and is typically found growing in clusters on small twigs or other woody debris. It is also common on landscape mulch.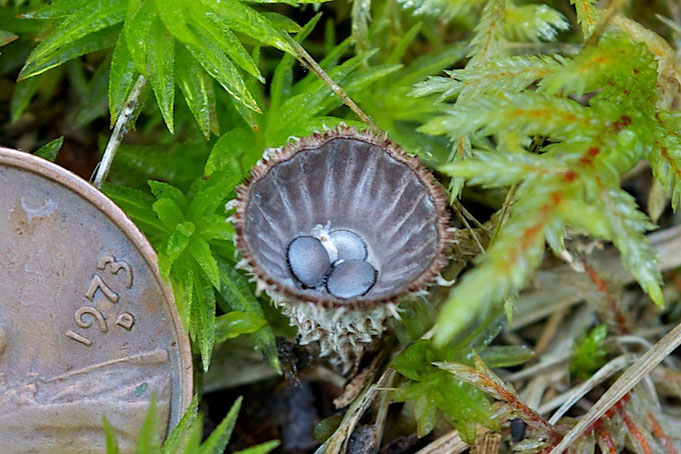 Fluted Bird's Nests are also known as Splash Cups. The name refers to the method of spore dispersal. When raindrops hit the 'eggs' in the cup, they spring from the cups and are thrown three or four feet away. 
Shortly after discovering the Fluted Bird's Nest, I found an even smaller species of this interesting family of fungi. It is called White-egg Bird's Nest, Crucicibulum laeve, and is the only bird's nest fungi to have white "eggs". (See photo below)
---