The First Flowers of Spring at Distant Hill
Vernal Witch-hazel (Hamamelis vernalis) is the first shrub at Distant Hill Gardens to flower every year. The buds, which soon will become fragrant yellow flowers, are just beginning to open on this, the first full day of spring. Finally, life returns to the gardens after a long snowy winter.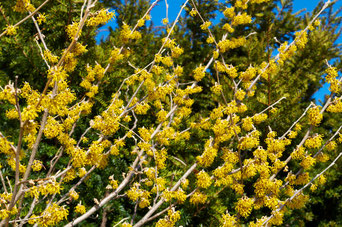 Hamamellis vernalis, or Ozark Witch-hazel, is native to the southern and central  United States. The flowers will open on relatively warm days but remain closed when it's cold to avoid frost. When the flowers do open they will be pollinated by small gnats and bees.
There are several cultivars of Vernal Witch-hazel selected mainly for variation in flower color, including 'Carnea' (pink flowers), 'Red Imp' (petals red with orange tips), and 'Squib' (vivid yellow flowers). 
Height

: 6-10' 

Spread

: 10-15' 

Habit/Form

: Rounded to upright  

Zone

: 4-8 

Birds Attracted

: Robin, junco, titmouse, cardinal, and many others

Plant Appeal for Birds

: Seeds released in September-October
---