A Spider of A Different Color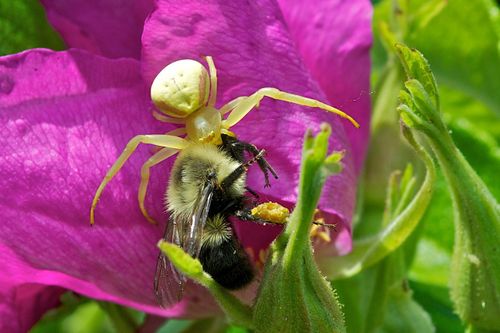 Goldenrod Crab Spider (Misumena vatia) are common on a number of flowers at Distant Hill Gardens. Our Milkweed Meadow is one of their preferred sites for laying their eggs and guarding them until they hatch.

This species is a sit-and-wait predator that does not use a web to catch their prey. This one was hiding on a pink Rugosa Rose. Not the best camouflage, but it was still able to snare a bumble bee.

Because flowers are their chosen habitat, the majority of their diet includes pollinators such as bumblebees, honeybees, butterflies, and moths.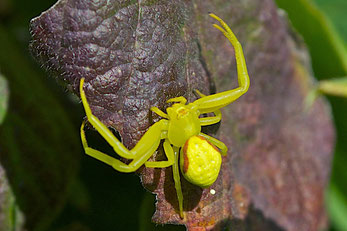 Misumena vatia is also known as the Banana Spider or White Crab Spider. They are one of the few spiders in North America that are capable of changing their body color from bright yellow to white, or white to yellow, depending on the flower they are hiding on. The color change from white to yellow takes between 10 and 25 days, the reverse about six days.

---