---
The Three North American Species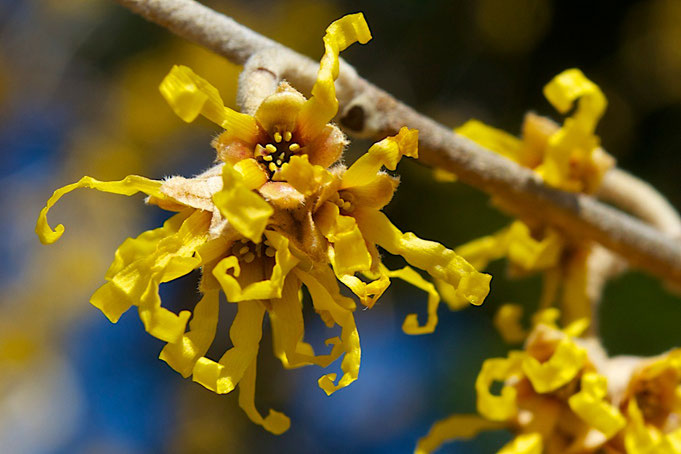 Witch-hazel (Hamamelis) is a genus of flowering plants in the family Hamamelidaceae, with three species in North America and one each in Japan and China. They are deciduous shrubs or small trees growing to 10–30ft (3–9m) tall.
Hamamelis virginiana, known as common or American witch-hazel, is a species of witch-hazel native to eastern North America. It blooms in the fall while all other species of witch-hazel bloom in late winter or early spring. H. virigiana grows naturally in the woods of Distant Hill Gardens. 
Hamamelis vernalis is a species of witch-hazel native to the Ozark Plateau in central North America, in Missouri, Oklahoma, and Arkansas. Vernal Witch-hazel is under cultivation in our gardens at Distant Hill.
Hamamelis ovalis, known as Big leaf witch-hazel, is a new species of witch-hazel that was only discovered in July 2004, in southern Mississippi. It has since also been found in a few sites in southern Alabama.
aka 'Snapping Hazel'
The seed capsule of witch-hazel splits explosively at maturity, ejecting the seeds with sufficient force to fly for distances of up to 30 ft (10 m), giving it the sometimes used common name "Snapping Hazel".
Medicinal Uses of Witch-hazel
Witch hazel is an astringent produced from the leaves and bark of the North American Witch-hazel shrub (Hamamelis virginiana). This plant extract was widely used for medicinal purposes by Native Americans. They produced witch hazel extract by boiling the stems of the shrub and producing a decoction, which was used to treat swellings, inflammations, and tumors. Early Puritan settlers in New England adopted this remedy and witch hazel is a component of a variety of commercial healthcare products today.
More Interesting Facts About Witch-hazel
Witch-hazel is one of the very few American medicinal plants approved as an ingredient in non-prescription drugs by the U.S. Food and Drug Administration.
The botanical name, Hamamelis, translates to "together with fruit".  This refers to the fact that witch-hazel is one of the few trees/shrubs that can bear fruit, leaves and flowers simultaneously.
---